This week I have been experimenting with different materials and been inspired by some incredible work.
I recently bought a huge bag of coloured confetti. I bought it because I liked the simplified shapes and thought they could lend themselves well to making an abstract piece. Looking forward to experimenting with making something colourful, lumpy, and weird out of it.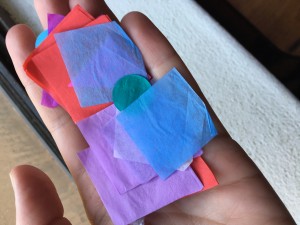 Yesterday I went to see 'Mud Men' by Ramesh Nithiyendran, and 'Nervous' by Heather B Swan, both at the National Gallery. Both exhibitions were incredible, and I really enjoyed the aesthetic and their focus on the representation of the human body. Nithiyendran's ceramic sculptures were embedded with resin teeth and Swan's work was covered with glass eyes. Well worth a visit if you are in Canberra.