On the weekend I came across a cheap VR headset in a local shop and decided to try it out. 
It only cost $15, so thought it was worth comparing to other models that are in the lab.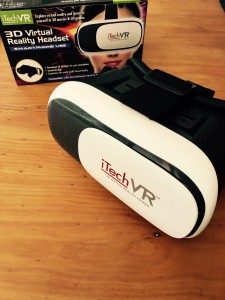 http://www.ebay.co.uk/p/iTech-VR-Deluxe-3d-Virtual-Reality-Glasses-Headset-Smartphone-Android-IOS-13/1475713531
The upside is that it works easily with my iphone 6. The headset is also comfortable and quite light – quite unusual for a cheap heaset! I expected it to be much heavier and less padded. I downloaded a rollercoaster app which worked quite well. However, getting the lenses to focus on the iphone screen was quite tricky. I could get it to work reasonably well for myself, but others who tried said it was always a little blurry. In all, this model works ok, but there are better models out there. Buying a better quality headset for this project will definitely be worthwhile.
Looking forward to trying out more tech as this project continues. Not long to go now! This project will conclude on December 31st.